A Long Awaited Hit 
Cut up on a mirror with a razor blade and served up in a rolled dollar bill.
For many Speedway Fans, that first whiff of methanol fumes brought the same euphoric bliss like a hit of the illicit white powder does for an 80's rockstar.
Arguably just as addictive and endlessly more fulfilling, Speedway has gotten under our skins and become part of our lives.
For many of us, Sunday the 5th of November was the first hit of Speedway we got for the new season.
With a rainout cancelling racing on Saturday, the sight of Western Springs Speedway finally opening its gates for the first meeting brought warm waves of long-awaited comfort.
I stepped through those gates with mixed feelings of excitement and trepidation.
This time last year I was a total unknown to Speedway and looked around me in awe and wonder like a child visiting Rainbows End for the first time.
With my camera in tow, I tried to make sense of this new world shown to me the only way I knew how, through my view-finder.
Fast forward a year and my first virgin attempts at Speedway Photography seem a long way off.
Thousands of Speedway photos now rest in my computers straining harddrive and a trophy sits on my dresser.
From a total newbie of motorsport photography to NZ Speedway Photographer of the Year in one season was a drastic change of pace and for that reason, I was feeling tense as I made my way through the now-familiar territory.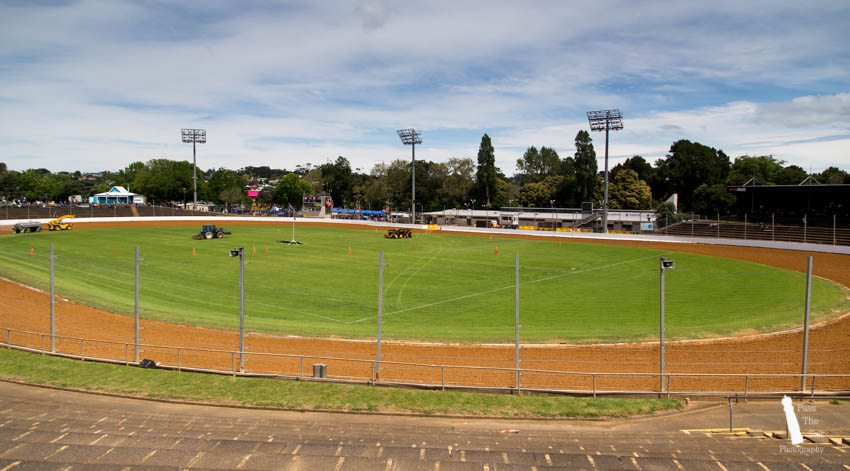 Now that I can't hide behind the mask of obscurity and get away with any old photo, I was nervous whether I will uphold the quality expected from the totally unexpected award.
Only time will tell as the season tears along in mud flinging fury but all I know is I'll put my best efforts into it.
New Track, Old Faces
The first thing any regular of the Western Springs Speedway would have noticed was the new track surfaced prepared for this season.
Based on the Huntly track, it was glowing a deep orange colour and contrasted well with the fresh green turf laid in the infield.
It was a markable difference from the brown surface of previous seasons.
Upon seeing it, we were all eager to see what kind of surface it will provide for the cars and as the day went on we definitely got a good idea of its capabilities.
The SDU Crew made a bee-line for the pits as we were all excited to see our Speedway friends and their cars before the racing began.
Along the way, I spotted many familiar faces and stopped to exchange a few words, the contrast to last year where I knew no one was a pleasant one.
As any Speedway fan will tell you, the ability to meet the drivers and their crews, watch work being undertaken and experiencing that part of things is what really sets it apart from any other motorsport.
The pits themselves were much like last year except they seemed more sparse than before with one whole bay once dedicated to TQ's left oil stained and empty.
Whether or not this is a permanent change isn't apparent or if it was simply a result of fewer teams being able to make it for the rain out day.
It was great to finally see the new cars from some of the more prominent names in Speedway after they were teasing us all Season with build progress photos of their new cars.
Sprintcar driver Jamie McDonald had his new 3NZ Sprintcar on display along with Michael Pickens bringing both his new Sprintcar and Midget.
The 1NZ Midget was proving to be a particular showpiece and drawcard as many were wondering what the 7-time NZ Champion has brought to the table this season.
After blitzing through the previous season in his TRD powered King Chassis midget, both in New Zealand and America, the wonder car had to be retired after his racing team Seamount Racing didn't continue on for this season.
This season Michael Pickens is running his own King Chassis Midget powered by an Esslinger motor, the switch to a different motor definitely made the change an exciting one as many couldn't wait to see what the new car could do on track.
"Will it help Michael blast his way from win to win?"
Many eyes were glued to his now blue coloured midget to find out.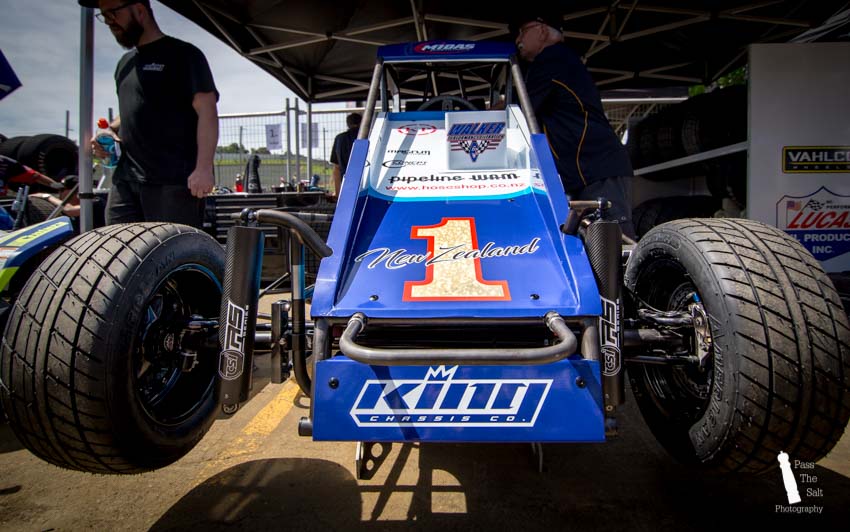 Other teams had new cars or decal jobs done for the new season with a memorable one being the Baker Boys TQ midgets done up in an eye-catching yellow and black design, a markable difference from the grey of the previous season.
There was a buzz of activity around the BSL Racing Team as they brought on two new cars for the season and added TQ 1NZ star driver Hayden Guptill to their ranks.
After winning the TQ title in the previous season, Hayden got the chance to drive a midget for BSL for a few races until the season ended.
This season Hayden has his very own car built to his specifications and with SDU being one of his sponsors, we were all excited to see what he could do.
After a lot of handshakes and quick catching up, everyone went their separate ways to get ready for the racing. 
Racing Report and Highlights
The racing started off with the Kiwi Kidz and for the first few races, the track surface appeared to be a big upgrade from previous years.
The first heat of the Kiwi Kidz resulted in no incidents with only one car exiting the track early but the racing continued without problems until the first heat of the Sprintcars.
The new surface proved to have much more grip than the drivers were expecting which put a stop to a lot of sliding.
Whether the three Sprintcar pileup was a result of this surface or not won't be speculated on however it marked the beginning of a carnage-filled meeting.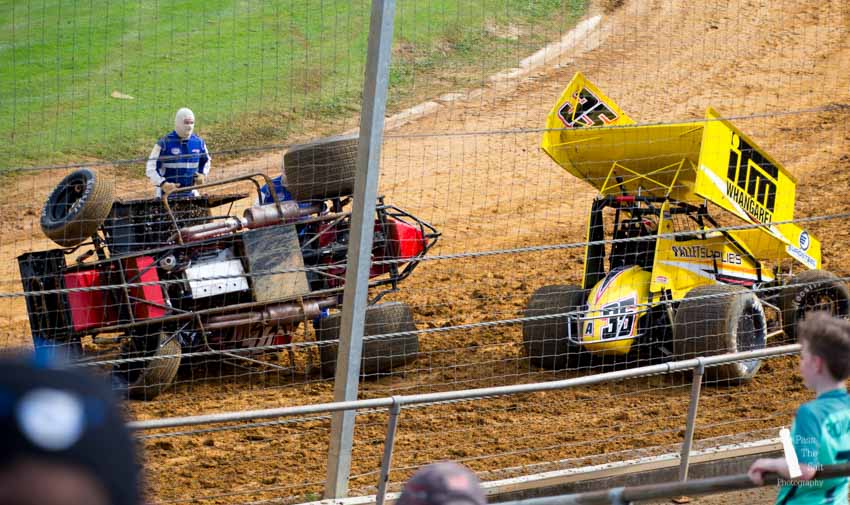 The second heat for the F2's was going smoothly until the #67 car driven by Harker kissed the concrete resulting in him rolling the car and suffering damage.
Thankfully he was able to walk away from the crash and as bad as it looked, it only set the tone for the spectacular crashes awaiting further on in the meeting.
Hayden Guptill in his #91 Midget showed everyone what he could do in his new ride as he absolutely flew through his heat after gaining an early lead.
A yellow flag and restart couldn't slow his pace as even his team-mate Brad Mosen in the 2NZ Midget couldn't keep up with him.
Hayden picked up a win in his first heat and for many following the young drivers' progress, it was exciting to see what he could do in the feature when he faced off with some of the big names in the class.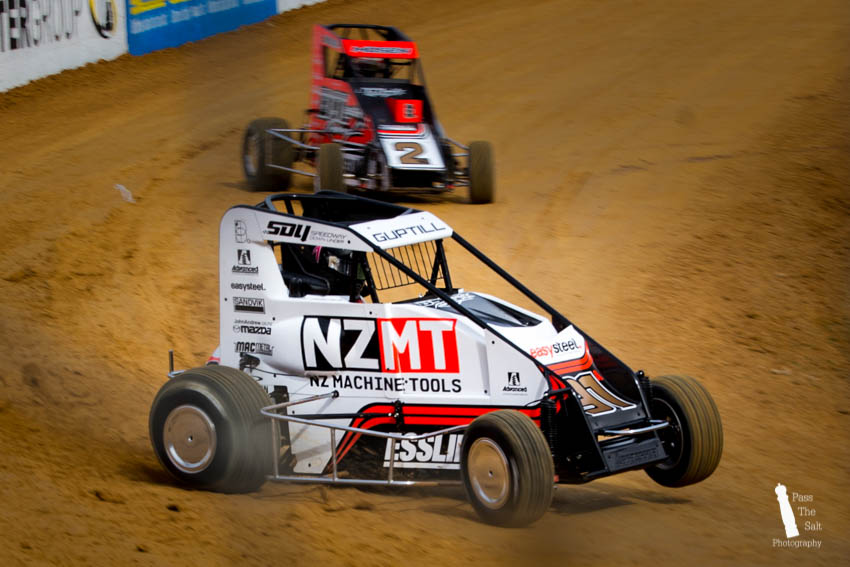 The sweet taste of victory for the BSL Racing Team was short lived as only a few races later Brad Mosen flipped his 2NZ Midget resulting in axle damage and was followed by 6A flipping shortly after.
Michael Pickens ended up taking out the win in that heat after managing to avoid the accidents and showed to us all what his new car is capable of.
Unfortunately, more carnage on track shortly followed in the Sprintcar feature.
Jamie McDonald found himself caught behind a two-car collision leaving him with nowhere to go.
He wound up running right into the 21W car of Stephen Taylor and flipping his brand new Sprintcar multiple times.
It was a great relief to see Jamie exit the wreckage unscathed but his Sprintcar had suffered heavy damage to both axles, top wing and worst of all, chassis damage.
Despite his team's feverish work replacing parts and getting the beast back in fighting order, the damage proved too extensive and it ended Jamie's racing for the night.
Stephen Taylor also suffered damage but managed to get back on track for the feature.
The two following heats of the TQ's and F2's brought feelings that the worst of the crashes were over as they both went without a hitch and showed some premier driving talent having some clean races without any restarts.
Before we had a chance to touch wood the following Midget heat brought disaster as Hayden Guptill ended up in rolling and gaining massive air-time as his Midget was launched sky high with wheels reaching for the clouds.
Despite the impact, both driver and Midget were able to continue competing in the Midget Feature race later on.
It was a very unwelcome sight to see after such a brilliant drive on his first heat but it showed the true nature of this motorsport where the most unexpected can happen at any moment.
The racing continued more or less cleanly for a few more races with some classes experiencing perfect races with no restarts while others had multiple restarts due to spin-outs or minor collisions.
The new surface was definitely beginning to show notable differences over the previous surface at Western Springs Speedway.
I am by no means an expert on track surfaces nor am I able to read them as well as a seasoned spectator can, however, I did notice a lot of the cars were jumping around on the surface excessively.
The bouncing and jumping nearly caused a lot of cars to flip while others were getting up on two wheels a lot during cornering.
The surface did claim a lot of victims as many cars entered a corner and with their wheels caught on a rise were taken fully over and causing them to roll.
A notable upside of the surface was it seemed to be taking a lot less rubber than surfaces of old as there wasn't any black marking the orange dirt by the end of the night.
The general consensus during driver interviews was that they were happy with the new surface with many touting it to be a "massive step-up from the last surface."
The dust level was also a welcome change as it wasn't as bad or thick as previously remembered, even the massive tyres of the Sprintcars failed to churn up a thick cloud of dust after their heats were completed.
The TQ Feature claimed another victim as the 11A Car driven by Tim Fergusson flipped resulting in a restart.
Scott Baker driving the #88 TQ continued leading the race after that and took out the first feature win for the TQ's this season.
The midget feature did not disappoint as it was a very exciting and close race featuring many restarts and a few accidents.
The black #69 car flipped early on in the race and after another restart, Hayden Guptill's night was truly over as his midget lost it's front left-wheel on the main straight.
He managed to bring it in safe to the in-field on three tyres before any serious damage was done to the car or others.
With that the race turned into a true edge of your seat experience with crowd favourite Michael Pickens biting on the heels of Brock Maskovich who wouldn't let him take the lead.
Brock put on a brave effort and was beginning to get a half lap lead before another restart equalled the playing field once again.
Despite that, Brock still managed to stay out in pole position and despite his best efforts, Michael simply couldn't pass him.
Eventually Michael spied an opening when Brock slowed down to overtake a lapped car, with that split second change in pace, Michael swooped around the two cars and went on to take his first feature win of the season.
With the Midget feature completed, it was time for the final race of the night with the Sprintcar Feature.
1NZ Sprintcar Champion Jamie Larsen managed to lead the pack despite 3 race restarts and blocked Dean Brindle's best attempts at passing him through-out the whole race.
The #10 Mitre10 Jobmate Sprintcar was caught up in a spectacular crash where it got sandwhiched between two cars, resulting in heavy damage to both ends and chassis.
The only one left unscathed was the driver who managed to jump out of the wreck without injury.
Such feats of strength and tolerance are true testament to how well these machines are built and how much punishment they take to protect the driver.
With that, the racing was over for the opening night of Western Springs Speedway for 2017.
It proved to be a very exciting and exhilarating meeting for both spectator and racer alike as, despite the many restarts, a lot of driving talent was on display and made for some great entertainment.
I cannot wait to see what the season brings for us and what other excitement awaits for everyone involved!
If you want more photos from the meeting keep an eye out on our Speedwaydowunder Facebook page and my personal website where I will post them for everyone to enjoy.
Photos and Words by Les B.